Company Director At Supply it Site Services – Interviewed for The National Association of Shopfitters Website in 2020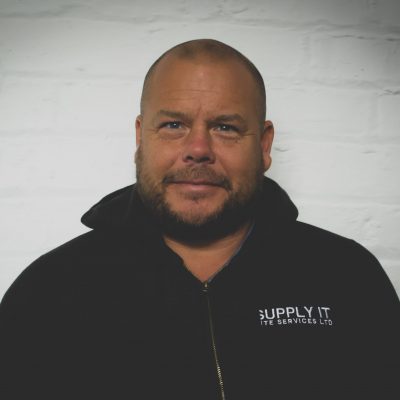 1. How and when did you first come into this industry?
It was extremely random! Many many years ago when I lived in Doncaster I went for a job with an insurance company and as I didn't hear back from them my wife actually contacted them to ask for an update. The gentleman couldn't remember interviewing me and questioned who she thought she was calling, my wife had actually rang a local skip hire company and after they got chatting about me, I was offered a job a week later and started within the national sales team targeting new business for their waste brokerage service! When I moved to Cumbria, this experience got me a job at a Carlisle skip hire company. I was then approached by the owner of Supply It to help him run his business! If it wasn't for my wife, I might have never worked in this industry – thanks Donna!
2. Tell us a bit more about your company and what services it offers.
We are one of the oldest national waste and construction site brokers around and originally started out as The Skip Network Ltd. As the years went by and our customers grew, we grew with them, offering more than just skips. We believe we offer a perfect combination of hired-in services for when shopfitters and other contractors are working around the UK needing to source anything from local skips, fence panels, portable site accommodation, concrete, plant and digger hire and much more! We might not have the best website out there nor do we have salesmen driving up and down the UK promising you everything! But the things we have are experience and passion to make sure sites are run smoothly and we try and evolve our hired-in services to suit your individual needs. Our passion is to find the best local suppliers for the sites you are involved in and to alleviate the tiresome task of sourcing your own suppliers when we can do it all for you.
3. When did you become an NAS Member and what has your experience been so far?
We became a Member around November 2018 and have attended or exhibited at most of the events they have promoted. We never actively look for potential new business, it's been more about exposure of our business and the pride we get from integrating with fellow Members and being part of this great association.
4. What is your favourite part of your job?
I love everything! HAHAHAHA no seriously! From working with a great team, having my dog come to work with me (who is quite famous on Linkedin!), from continued relationship building with suppliers to keeping every customer happy with our service. It all adds up! Oh and Pizza Friday! The picture above is from when the staff at Supply It Site Services filled my office full of balloons for my birthday one year.
5. What are your proudest achievements?
Personally, finding a beautiful lady to still be married to me after 19 years is a big achievement! Professionally, it's hard to find a job that you live and breathe for, I love this industry and with poor school qualifications I have only had my positive personality and previous sales jobs skills to make me the person I am today. I take pride running this business alongside Mark Ward and by living off what my parents always brought me up to believe in and that's being sincere, respectful and reliable!
6. How do you like to spend your time outside of work?
I buzz watching my son play football on a Saturday, and I love walking whenever and wherever I can around the Lake District which is on my doorstep with my wife and dog, in search of local tea shops! Other than that, as I live rural with no natural gas, I am always filling my biomass pellet boiler or chopping wood for the burner. I am also a domestic god and love ironing, hoovering or cleaning the flipping kitchen after the kids have demolished it!
7. Who would your top five dream celebrity guests be at your dream dinner party (from any era, dead or alive)?
HAHAHA very interesting! I would love to be sat with Arnold Schwarzenegger, Peter Kay, Claudia Schiffer, Lionel Messi and Cliff Richard as my mum would love to look down from heaven to see me with her favorite singer!
8. If you could say two things to the 15 year old you, what would you say?
'Stop thinking mad dog 20/20 is a drink you enjoy!'
'Stop shoving your ironed laundry under the bed after your mum told you to hang it up properly.'